Google Chrome is probably one of the best web browsers. Millions of users are using Chrome worldwide. It's because of its features, easy to use, store apps and much more. With all these features Google Chrome is currently owning about 59% of the browsers market share (2017). It means Chrome has more than half of the market share. So, this means Google has to continuously update Chrome and its features so that competitors like Edge, Firefox etc. won't cross Chrome in numbers of users.  In Chrome, we've seen many useful features, extensions that makes our work much easier. It increases our work flow and we can work on multiple tabs easily. But, what if you accidentally closed any tab in Chrome. If you've done so, don't worry as you can open recently closed tab in Chrome easily.
Users can easily reopen closed tab in Chrome. Also, we'll be showing you some tips which are useful for you. Many times, we just closed a tab in Chrome and then we realize that we need to go back to that web page to check something else. You don't remember the name of the website or the URL. In this case, you'll have to find history data in Chrome. But, in History, web pages are shown in the order they are opened. Newly opened tabs will be shown on top. Hence, it becomes difficult to find which URL was closed by you.
If accidentally closing tabs in Chrome is becoming common in your case, learn the tips given below. It'll help you to reopen recently closed tab in few seconds. What if you can open recently closed tab in Chrome by pressing some keys on the keyboard. Also, you can set last opened page as startup page in Chrome. Read the full article below to know more.
Also: Fix Flash Not Working In Chrome
Open Recently Closed Tab In Chrome
Below are the methods to reopen closed tabs in Chrome. Methods are different and we've given some tips which will surely help you.
Quickly Reopen Closed Tab In Chrome
Sometimes, we accidentally closed a tab in Chrome. Then we want to go back to that tab as soon as possible in this case you should use the following ways:
Way 1: Press Ctrl+Shitf+T and you'll be redirected to the tab which you've closed.
Way 2: Click on Chrome Menu and select History and then in recently closed tabs, select the tab you want to reopen in Chrome.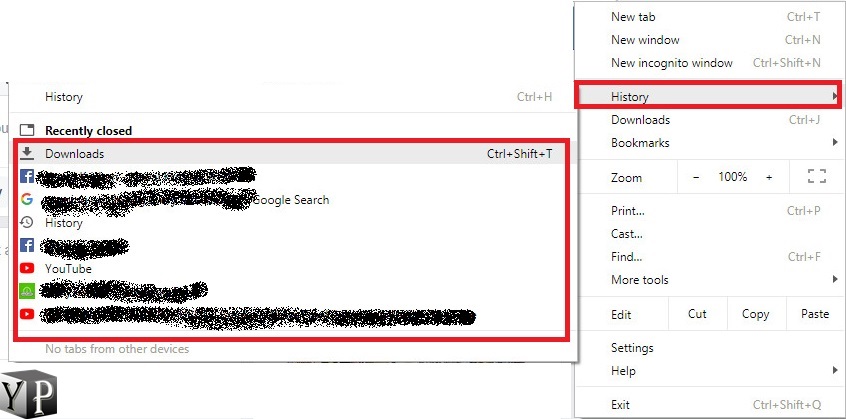 A new tab will pop up with the address that the previous tab had which you've closed. This is the quickest way to can use to restore closed tabs in Chrome.
Also: Import Firefox Bookmarks To Chrome
Use History To Find Closed Tab
Sometimes, the tab we want to reopen isn't actually opened because methods given above will only open those tabs which were closed before. If you've accidentally closed tab2 and after if you've closed another tab1 again. The method given above will only open tab 1, but if you want tab 2 reopen in Chrome. You can use history data for this purpose.
In Chrome, press Ctrl+H and all the history will be shown.
Find the page title you're looking for.
Click on the page title and it'll open in new tab.
Tip: Open Tab With Page You've Left On Startup
If you browse any website continuously or working continuously on any website, you can open it on startup in Chrome. The website will open in the tab and you can browse it quickly. Or you can set startup page to where you've closed Chrome. This can be easily done by changing some startup settings in Chrome.
1. Open Google Chrome and paste it in URL bar: chrome://settings/onStartup.
2. Select Continue where you left off to open a tab where you've closed Chrome.

3. Select Set Of Pages and add new web pages address and those will open in tabs when you launch Google Chrome.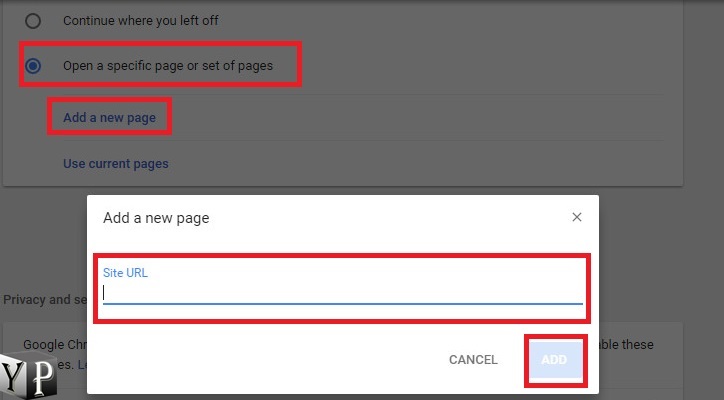 With these methods, you can quickly open recently closed tab in Chrome. We hope you got the answer for your problem. You can reopen closed tab in Chrome very easily using keyboard shortcut or use the options menu. It's very easy to do so. If you're still having any questions, comment down below.