Surveys are conducted by various companies online to take feedback of their services and products. These surveys are conducted on different websites in different ways. Whenever you visit such a website saying complete a survey, that means the owner of that website is taking some money from the company/association who wants to conduct a survey on their website.
Nowadays surveys are becoming the headache of people. Even if you've completed the survey you still can't reach the destination page/URL where you want to visit. Also, some of the websites are conducting fake/illegal surveys to increase their revenue points and also for spam purpose.
If you're trying to visit a page and stuck on survey then we've solution of your problem. We'll show you Survey Remover Process to Bypass online surveys.
Apart we should also consider that some of the surveys are just for collecting feedback from users. You can just fill the options and you'll be redirected to destination URL. But, some of the websites have surveys which are not easy to complete and your time will be consumed by the survey.
Also, we want to share that not all surveys can be bypassed as some surveys work dynamically. But some surveys are injected inside HTML and can be bypassed.
Remove online surveys through Bypass
So, let's start bypassing surveys. But let us tell you that surveys are of many types. Some users inject survey codes into their HTML codes and those surveys can be bypassed easily. But also, not all of them can be bypassed. Some of the surveys work dynamically. Means survey is operated by remote servers. Removing codes from HTML will not work in that case.
We have the solution for bypassing surveys that work in most of the cases.
Bypassing Overlay Surveys Online
Overlay surveys are those surveys which overlay your main page and disabling you from accessing links/images on that page. Meaning you're on the main destination page but the page is overlayed by the survey. This kind of surveys can be removed by removing some HTML attributes and codes from the page.
But you should be confidential that your survey is kind of Overlay Survey. Below is an example that shows how overlay survey looks like: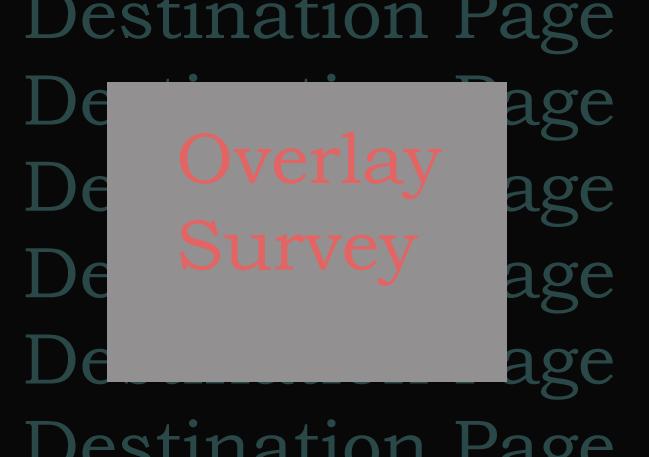 The image given above is an example of overlay survey. If you know HTML then you might have the idea what it takes to create an overlay box and how it can be removed by removing HTML codes by Console in the browser.
Below are the steps that will bypass this kind of overlay type survey:
Right click on the overlay box survey and select Inspect Element. In some of the pages, right click is disabled so you should press Ctrl+Shift+I in google chrome.
This will open a dialog box showing all the codes available on that page. Click on Elements.
Delete all the codes that start with <div> or something that you thinks is related to overlay box.
Deleting all the elements carefully will make your main landing page accessible.
This method will surely work if your survey is overlay based. The only thing you have to do is just delete the elements of overlay survey and you're done.
But there're a lot of such surveys which can't be removed by deleting the codes. Doing this will make your page blank or you will not reach your required destination.
Below are the methods which are useful for bypassing such kinds of surveys.
Using Noscript To Bypass online Surveys
NoScript security suite is an addon or survey remover tool which is capable of blocking scripts from unknown servers. That means your page will not load those scripts which are marked as spam or unfriendly.So, it might be helpful to stop surveys which are spam or harmful.
This addon is a very light weight and removes scripts only if they are supposed to not very important for you. This script also blocks some ads on the page but you can select from the options menu of NoScript that which element should be shown.
Personally, we're using this tool not to bypass surveys but also to make page loading speed higher. This add-on eliminates all the unwanted scripts.
Go to chrome/firefox store and search for NoScript and install that addon.
Add that to your browser to activate.
Visit the website where the survey is needed to be skipped.
This addon will show only on-page elements. All scripts/unwanted things will be removed and you'll get your link.
NoScript tool is the easiest way to bypass survey online. This survey removal tool works in most of the cases and you should try this tool to solve your survey problem.
Extracting All URLs From The Page
A page contains all the URLs that are necessary for the navigational purpose. Similarly, a survey containing page also have a lot of links and you need the exact one link to get your file/destination.
So, what if we extract all the URLs from the web page containing survey and then trying each URL to get the desired file/destination.
This can be done easily by following few steps given below:
1. Visit the page where the survey is eating your mind and time.
2. Right click or open developer console by shortcut. (for chrome users Ctrl+Shift+I)
3. Click on Console tab and paste the code given below:
urls = $$('a'); for (url in urls) console.log ( urls[url].href );

4. This will extract all the URLs from the web page you're currently on.

Now, you'll get a list of URL's available on the page. In my case, I got my desired link.
Try those all URLs to check whether your destination/file URL is there or not. However, if you're not getting your desired URL, try this with any other browser. This method will surely help you.
Bypassing Dynamically Operated Surveys :
Finally, here comes the dynamically operated surveys. I'm using word dynamically because of there no way to bypass these surveys by editing/deleting on page codes. These surveys are operated by remote URLs and you'll only get the destination file/URL only if you've completed your survey which opens in another tab.
This is an example how companies/spammers are working to waste our precious time.
There's only one way left to bypass this kind of surveys. You'll have to use your fake identity and email etc.
But wait! You don't have to generate this fake information on your own. There's a tool called Fake Name Generator which generates almost everything that most of the surveys asks from you.
Visit Fake Name Generator website. (Search For It)
Select options there and it will generate all the required fake identity randomly.
Put those fake details on the survey and submit the details to them.
Get your desired destination/URL
These all methods are given above and these methods will surely help you to bypass the online surveys. If you've done your bypassing survey job from the methods given above, let us know in comment section below. Also, you can give us suggestions about bypassing surveys.