Getting an Internet subscription and not able to use it on PC is the worst experience anyone can experience. In Windows users are getting the default gateway is not available error. Their network icon turns red even if they've connected the LAN cable to their computer. We know you're also struggling with this problem and that's why you're on this page. But, don't worry there are many fixes to this problem that we'll be showing you in this article. Most of the times, users have installed such programs in their PC which are related to VPN, Internet Security and that software become the reason of this problem. You should be aware that don't install any internet security software from unknown sources. Only use the trusted software which is downloaded from trusted sources.
Windows has its own troubleshoot which can be to configure many Windows related problems. When we run the troubleshooter, it gives an error saying "the default gateway is not available". This is Windows OS related problems in most of the cases. But, it might be the router's problem too or the modem you're using to access the internet. Check if the Internet is working on another device or not. If it's not working you need to reboot your router or reset your router. Most of the times, routers stop responding due to any technical problem. So, make sure you've checked the performance of the router first before digging into the solution given below.
If you think router or modem is working well and there's any problem in Windows which is resulting in the default gateway is not available problem then follow the methods given below. This problem is mainly raised due to drivers or third-party application.
Fix: The Default Gateway Is Not Available
We've listed all the possible fixes below to this problem. Make sure you've followed the steps accordingly to the sequence they are arranged. This will help you in fixing the problem easily.
Quick Tip: You should restart your computer before proceeding. Maybe the default gateway is not available is just a flack in Windows. So, it's wise to restart and check if the internet is working or not.
Disable Antivirus, VPN, McAffe Related Programs
As we listed above that this problem might be raised due to any third p[arty programs. In Windows users uses VPN, Antivirus and mostly McAffe like third party programs to protect themselves on the internet. But, these programs might raise serious problems to your sometimes. As we all know that programs can crash and create problems anytime if they have bugs in them. Also, Antivirus like software has control over the firewall and internet in Windows. Hence, you should disable Antivirus.
Also, you should disable all the McAfee applications installed on your system. There are millions of users using this security program. But, it creates problems several times related to internet connectivity. If you don't know how you can remove these from your system, follow the guide:
Press Win+R and type Control Panel, hit enter.
Click on Programs option or search for it.
Now remove McAfee related programs.
Remove VPN from your system too. Maybe VPN you're using have bugs resulting in the default gateway is not available problem.
We hope your problem is now solved. To check quickly if your internet is working or not, Press Win+R and type CMD, hit enter. Then type ping google.com and hit enter. If CMD starts receiving pinging data, it means your internet is working and the default gateway is not available problem is gone. Cheers!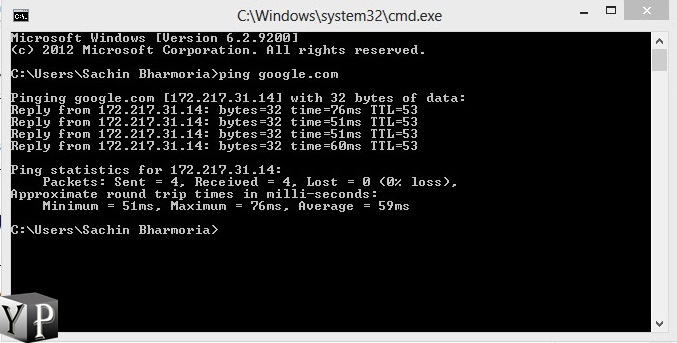 Still no success! Well, don't get shy as there are other fixes below which will definitely work for you.
Using NETSH Command In CMD
In this method, we'll be using Netsh command in Command Prompt. We'll be resetting IP and this might fix the problem in many cases. The command we're using will rewrites two registry keys that are used by TCP/IP. This will reinstall the whole protocol and your default gateway not available problem will be solved.
Search for CMD using Start Menu, Right Click>Run as administrator.
Now, type the command given below:

netsh int ip reset

Wait till the reset is complete. You should get the result like the image is given below.
Restart your Computer to check if the internet is working properly or not.
You can also check the reset logs but if you're not so much techy, then leave this whole matter if your internet starts working again. But if still struggling with the problem then try another two fixes listed below.
Uninstall and Update Your Network Adapter Driver
In this method, we'll try Uninstalling the network adapter. Maybe your network adapter 's drivers are outdated or not working well, So, it's good to uninstall it first and then updating it.
Most of the times, uninstalling the driver and then restarting the computer fixes the driver related problem itself. If it's not yet solved, we can update the driver manually. So, in this method, we'll be applying these two fixes to solve our problem.
Uninstalling The Network Driver:
Press Win+R, type Control Panel and hit enter.
Find the option for Device Manager and click on it.
Expand the Network Adapter and find your Network Adapter.
Now, Right-Click and select Uninstall.
You'll get a warning, click Yes and Restart your Computer.
Once computer restarts, the driver will be installed automatically and your problem might be solved.
But, if still troubling with the problem, then you should Update the Driver.
Updating The Network Adapter Driver
Right>Click on the network adapter and select Update Driver Software.
Click on Browse My Computer For Driver Software option.
Browse the location where you've downloaded the driver updates. (You can search for the latest version of your driver software online)
Now, install the update using on-screen instructions.
Restart your computer once the update is complete and check if you're able to connect to the internet or not.
Tip: You can use any driver update software for this purpose. There are many Softwares which can automatically update the outdated drivers if you don't want to update your network adapter drivers manually.
Restore Your Computer To the Previous Version
If you still in trouble with the problem, then you should restore your WIndows to the previous version. Most of the times when major changes are made to the WIndows OS, it automatically creates a restore point from where users can restore the Windows. It'll now delete the User files but will delete the programs and revert the settings to the restore point.
If you've installed any software/tool that caused the default gateway is not available problem then a restore should fix this. We've recommended performing a system restore in many articles because is actually help many users solving their problem. You can also try this method and it might solve your problem.
Open Control Panel in search for Recovery option.
Select Recovery and on the next page, click on System Restore.
A dialog will appear which will find all the available restore points.
Now, follow the on-screen instructions.
Select the recommended restore point or choose a custom restore point.
Restore Windows OS to that restore point to fix the default gateway is not available problem.
Changing The Network Adapter Power Settings
In this method, we'll be changing the network adapter power settings. We can manage the power management easily in Windows OS. There are many power saving related features available in Windows OS. If you've set the power settings to the Network Adapter to low or managed, then the default gateway is not available problem might occur. This is because the network adapter isn't getting the required amount of power supply to work properly.
Hence, it's wise to set wireless adapter power settings to Maximum performance. This will actually decrease the battery backup but your problem might be fixed and wireless adapter will perform better than before.
Open control panel and click on Power Options, you can also search for it using Start Menu.
Then select Change Plan Settings under the plan which you're currently using.
Click Change Advanced Power Settings.
Now expand the Wireless Adapter Settings>Power Options and set On battery to Maximum Performance.
Click On Apply and exit the menu.
Restart your computer and check if the internet is working or not.
Change The Network Adapter Mode
This method might solve the default gateway is not available problem. We'll be changing the network adapter properties in this case.
In this method, we'll be changing the network adapter mode. You can try all the modes that are available. This is also helpful in fixing the problem.
First, Right Click on the network icon in the taskbar and select Open Network and Sharing Center.
Now, select Change Adapter Settings from the left side option.
You'll get the list of all the network adapters available on your computer. Select the adapter you're using and Right Click>Properties.
Now, a new window will appear, select Configure option.
Click on Advanced tab and change the mode to any other mode (802.11). Click OK.
We hope all your problems are now solved. If you still getting the error, then let us know by commenting down below. We'll try to help you out in fixing the default gateway is not available problem in Windows.