Ubee routers are one of the good home networking solutions. In Ubee routers, you got many features and advancement of usability of WiFi networks and modems. This company sells their routers and modems so that users can easily access the internet connection through the modem or router. To change the router settings we need to login to the admin panel of the router. It can be only done once you're inside the router's admin panel. To access the router's admin panel you need to know the default gateway of the router or the URL address from where you can access the login panel. Different routers have their own different login process. In this article, we've shown the Ubee router login process. It's very easy to login to Ubee router. But, due to some problems users aren't able to login to the router.
We'll completely explain you the way which will help you in accessing Ubee router admin panel easily without having problems. Now, if we talk about Ubee and Ambit models, all have same default username and password. Then, if someone want to change that username and password, you can do it using the router admin panel. if you haven't changed it before then you can use the default login credentials to access the router login page. The login URL in Ubee router is 192.168.0.1 or 192.168.100.1 but if you still not ale to find the default gateway, we've shown the process below. So, check out whole article and do Ubee router login without getting into any trouble.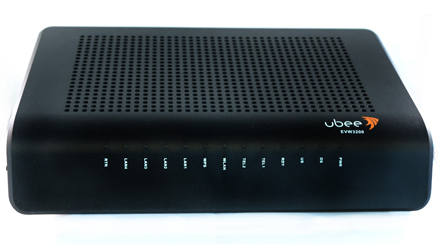 If you think that you've changed the admin panel username and password of Ubee router, then you should consider resetting the router. Resetting will change all the router settings to default resulting and you can then access the Ubee router settings dashboard using default credentials.
Ubee Router Login Method
In this process, we'll be using all the default values like the default login URL, default username, and password. If we talk about login URL address, it should also be same in your case. If it's not same, we've shown the process to find it at the end of this article.
Connect your device with Ubee WiFi using which you want to access router's admin panel.
Then open a browser in the device. If you're using a Mobile phone, consider using Chrome, EDGE, Firefox, Safari web browser.
In the URL address bar, enter: http://192.168.0.1 or http://192.168.100.1 and hit enter.
Now, on the web page, you'll get a login button. Click on that.
You should get a login screen, enter username: user and password: user and these are the default username and password of Ubee router.
Once you're logged in, you'll get the admin panel interface of the router. You've successfully performed Ubee router login process.
In case, you're not able to login and can't get the login page, you should try any other browser. Still no success! Then your default gateway or router login URL address is different and you need to find it out. You can do it easily using your computer/mobile phone.
Note: Device you're using to find the Ubee router login URL address should be connected to the WiFi. only then you'll be able to find default gateway of the router.
In Mobile Phones:
Long tap on WiFi icon to open WiFi settings. or open WiFi settings by Settings>Wireless>WiFi.
Now, connect to the Ubee router WiFi if not connected.
Long tap on the network name and select Properties. or Click on options option (usually three dots on the top right corner of the screen) and select Manage known Networks.
Find your WiFi SSID name there and click on it.
You should get Default Gateway IP or IPv4 address listed on that page. Use that IP address to access Ubee router login page.
In Windows OS:
Right Click on WiFi icon on the taskbar and select open Network and Sharing Center.
Then click on the WiFi network you're using.
Click on Details and you'll get the IPv4 address there. Use that to access router login page.
In MAC OS:
Navigate to Finder>Applications>Utlities>Terminal.app.
In the terminal, type the command: netstat -nr | grep default
You'll get default gateway.
In Linux OS:
Open the terminal and type: route -n or ip route | grep default
You should get the router's default gateway listed inside the terminal.
We hope you're now able to do Ubee Router Login. We've tried to show you all the information related to the router login in Ubee router. If you're having error, comment down below and we'll try to help you.